Personal Assistant (PA)
"Really helpful as I didn't know where to start."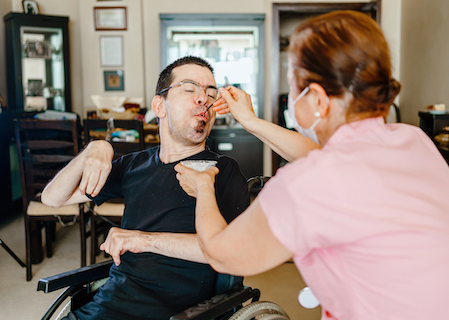 Are you interested in working as a Personal Assistant (PA)?
Create an account today to be connected with people who require your skills and are recruiting now.
Simply choose a membership which suits your requirements and budget and you can start to:
Search for Employers to find a match
Contact Employers through our secure messaging system
Receive emails when matching Employers become members
Create your own listing so Employers can find you
Access training courses to develop relevant skills and improve your CV, including achieving the Support with Confidence badge
Access support from factsheets and real people!
Who is a PA?
We use the term Personal Assistant (PA) to refer to those who support people at home, at work or with getting out and about, enabling them to retain their independence. A Personal Assistant may also be known as a Support Worker, Carer, Helper, Assistant or domiciliary worker.
As a PA, you might choose to support one person or several people. You can also choose the support you will offer, which may be supporting with meal preparation, shopping, personal care, visiting friends and family or supporting someone at work. Using Support Finder will allow you to specify the support you can provide and will match you with Employers who are looking for the support you can offer.
Who are we?
Our friendly and approachable staff team have a wealth of experience working with disabled people or living with a disability themselves. With our specialist knowledge, we support PAs with finding suitable Employers and guide them through the recruitment process and beyond. So, if you need to contact us or would like help with finding an Employer who is right for you, then rest assured that you're in the right hands.
Membership Packages
We have 3 membership packages for you to choose from, making it easy to find a package that suits your needs and budget.
Bronze
Our free easy to use, independent package where you can manage your job search and recruitment process yourself.
Silver
An enhanced package, ideal if you want to be independent with searching for an Employer but have access to additional features and online resources with the opportunity to purchase additional services (DBS checks and PA Training).
Gold
A fully supported package, ideal for PAs who need personal support along the way with the opportunity to purchase additional services (DBS checks and PA Training).
Special Offer
Currently we are running a special offer for all Surrey-based PAs, providing a free Silver membership. To take advantage of this special offer, use the voucher code 'SURREYPASILVER'.
Create an account today
Already have an account? Sign in now.

Benefits
Bronze
Silver
Gold
Prices
Free (£0 per month)
£7.50 per month*
£20 per month*
Create your account and profile
✔
✔
✔
Create one listing about the support you can offer
(this will be pending until approved by the Support Finder team)
✔
Create multiple listings (no need for approval)
✔
✔
Message Employers via the in-built system
✔
✔
✔
Shortlist preferred Employers
✔
✔
Ability to save searches
✔
✔
Access Factsheets & Resources
✔
✔
Receive email notification of new listing matches
✔
✔
Receive email notification of new messages
✔
✔
Basic technical support
✔
✔
✔
Support with creating your account, personal profile and listings
✔
Support with creating your saved searches
✔
Support with the application process
✔
Support with interview preparation
✔
+ Opportunity to purchase additional services (DBS check & PA training)
✔
✔
* All of our membership packages are paid quarterly in advance, for example, a Silver membership costs £7.50 per month, charged at £22.50 per quarter (every 3 months).